On this occasion we want to share our experience with the products of Acronis, a specialist company that is managing to evolve its portfolio of backup solutions remarkably. Maybe that's why he's one of our technology partners ;-).
In particular, we focus on its flagship product Acronis Cyber ​​Protect, since we will work throughout the article on this «Strength Idea»:
All companies need backup of their information.
What is Acronis Cyber ​​Protect?
Acronis Cyber ​​Protect is a backup solution with software security risk verification. For this, this solution integrates with it a cybersecurity tool, Cyberfit Score, which establishes the level of security and potential breaches in the customer's environment based on evaluating security metrics and configurations. Finally, provides us with recommendations to mitigate the risks detected and improve the level of security.
How It Works
From a user account in Acronis Cyber ​​Protect, we are provided with a complete web console in which we can download and deploy the necessary agents to be able to configure the different copies of equipment and servers.
Through said web console, through the plans, we organize the copies to be made. Note that as a cloud copy, it only accepts the cloud provided by Acronis, it cannot be linked to any other cloud service (AWS, Google, Microsoft, etc.). Less supplier dispersion, less noise.
The most common payment system is pay-per-use, so we have a cost per GB locally and another per GB in the cloud, which encompasses everything. A classic modality is also offered, with annual prices based on licenses for each host (or hypervisor) and a fixed space in the cloud (at a fixed price).
That offers?
Broadly speaking, Acronis with this product offers us the possibility of making backup copies of both virtual machines and physical machines, either complete, by drives or folders. In addition, we will be able to both restore a copy and manage the time that they are kept, when they are made or where the different backup copies that we make go.
Our personal experience using Acronis Cyber ​​Protect
Regarding the configuration
As for the the configuration, I consider it quite intuitive and simple. It gives us the possibility of downloading different agents depending on the type of machine or server that we want to make the backup.
We have options for equipment, for servers, distinguishing whether they are MAC, Linux or Windows, as well as different virtualization hypervisors. We even have the option of having agents for some applications such as Microsoft SQL Server, Microsoft Exchange Server, Microsoft Active Directory or Microsoft 365 Business.
These agents make it easier for us to communicate the web console with our systems to allow us to launch the copies, restores or queries that we need.
In our case, we have occasionally experienced slowness in the synchronization of the size occupied by the copies in the different locations, both local and in the cloud. We've also detected episodes where the number of copies a machine has isn't synced correctly, indicating that you have a number of copies that when you look doesn't match what you actually have. It is an aspect to improve.
As for the copies of Microsoft 365 resources, allows you to make copies of Microsoft's Azure Active Directory and Exchange Online emails. Acronis products are in continuous evolution but we have not experimented more with these capabilities, which you can consult directly in this Acronis documentation on protecting Microsoft 365 data. Add that we have had cases in which copies of disabled plans have been released to us, so we have chosen to eliminate the plans that we do not want to launch.
We believe it is a very valuable line of product evolution. As it is a very wide area, from what I have experienced, is implemented for certain versions of Microsoft Windows (from Windows 7 and Windows Server 2008 R2 onwards, technological obsolescence rules).
In our case, it seems to me that it generates numerous alerts that are very expensive to pursue individually. Each alert adds points and the total score assigned to these alerts is consolidated as the #CyberFitScore. At work, we need more facilities to prioritize or group alerts and their treatment, but, in any case, it is an interesting path. My recommendation: watch until you get better.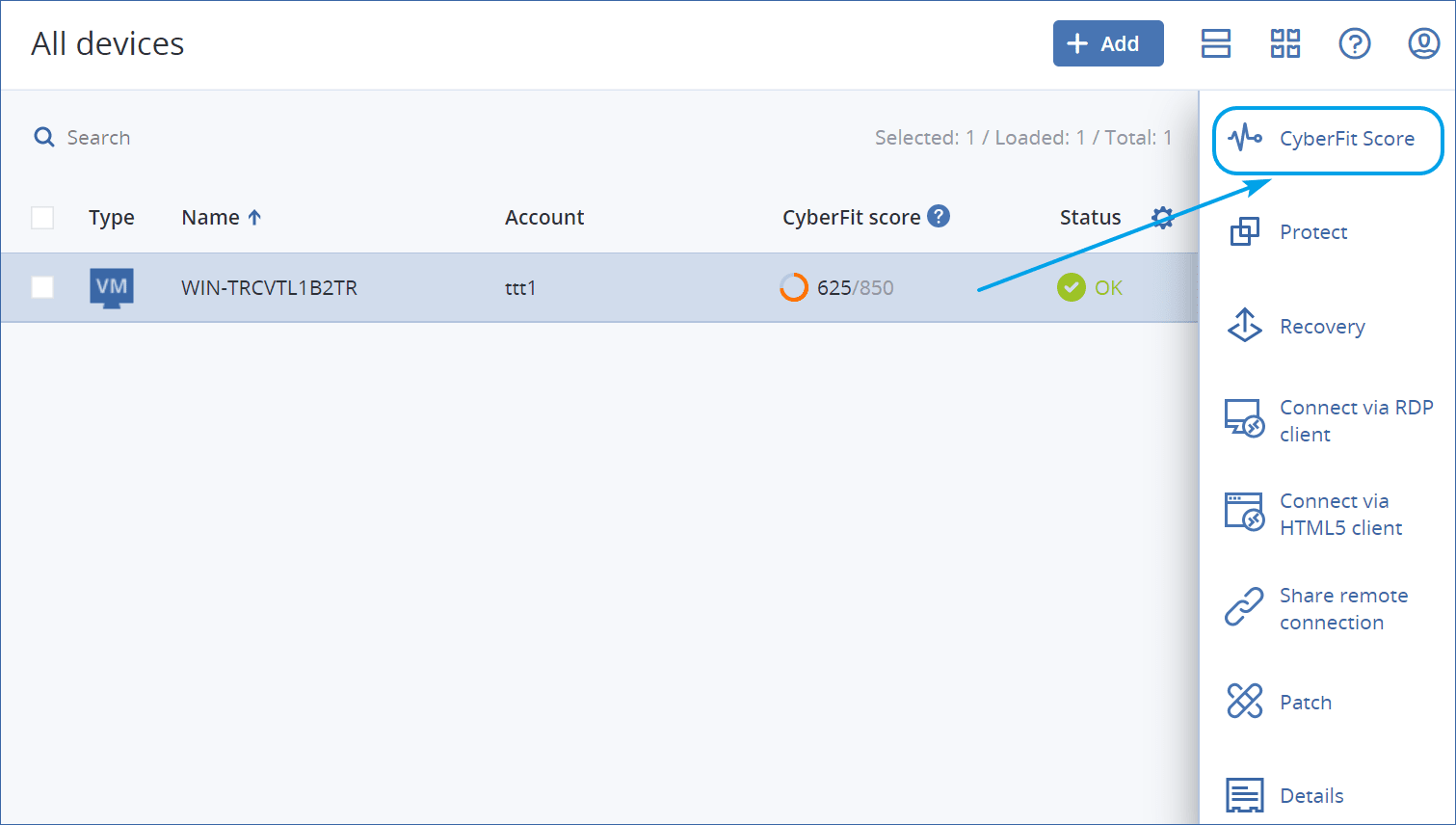 In this section of the Acronis documentation you can consult the detail on the metrics of the #CyberFit Score.
Regarding alerts and errors
I think that having facilities in the management of alerts is essential to survive when using backup solutions. Thus, I consider that scope constitutes another great opportunity for improvement in the current Acronis Cyber ​​Protect platform. Why? Because I see a disproportion between the number of low-severity alerts, which are difficult to deal with, compared to severe problems ("copy not made") that do not give rise to alerts and that must be controlled elsewhere.
In our case, we have also experienced frequent errors when updating agents. We have had problems doing it from the console and have been forced, on multiple occasions, to download the update and install it by hand on each server. This behavior causes us loss of time every time we have to update the agents.
Conclusion: Is Acronis Cyber ​​Protect recommended?
As a good Galician would say... well it depends 😊
If you need to back up virtual machines and physical computers, the Acronis Cyber ​​Protect platform is an option that we recommend you consider. It has the added value of centralizing both areas in a single console, using the same agents and with the ability to assess the level of cybersecurity of Windows computers.
On the other hand, if you only need to make copies of virtual machines, we invite you to consider more specialized alternatives such as Veeam, For example.
As we have mentioned, the Acronis platform has its little things like all products, but Acronis' product improvement activity is intense. For this reason, we trust that they will solve the problems that we have mentioned and that cause you to waste too much time in the management of the backup activity.
Complete vision of Acronis Cyber ​​Cloud in 2 minutes